Since I was 11, writing has been a passion. Be it the horror comedy spoof I wrote for my elementary school in fifth grade or the 700+ movie trivia questions I asked America for Coca-Cola as a full-grown adult, I've spent my career as a creative putting words in the right places for publishers, agencies, digital media outlets, startups and more. 
After spending years as a copywriter gaining invaluable experience at top advertising agencies (RPA, Cimarron Group, WONGDOODY) and with respected publishers (People, AOL), my pursuits eventually lead me to the place where editorial meets marketing:  Branded content.
At UPROXX Media (formerly Woven Digital), I spearheaded ideation/execution for the Native Content division as Managing Editor, running point on all things creative, touching over 200 pieces of branded content including articles, videos and the accompanying social media. Our daily goal: to help Fortune 500 brands such as Coors, Honda and the major Hollywood studios drive awareness and engagement around their properties with smart, strategic content. I'd like to think we succeeded. At the end of year one, our nascent native team did $1M+ in net revenue, winning 20% of the business we pitched.
Then I joined Bullpen, where I helped pitch, write and produce creative campaigns (digital and TVC) for clients such as Jada Toys, Wingstop, Build-A-Bear and SurveyMonkey as the agency's Senior Creative Director. Proud to say we generated millions of impressions with the "Shoulda Used SurveyMonkey" campaign,
lead by this spot
.
In between full-time things, GR ink. is where I work as a freelance gun-for-hire (copywriter, blogger, producer), cracking creative nuts for all types of clients – from naming/tagline explorations to branded content videos to blog pieces... to whatever a client needs that I can provide.
Otherwise, I'm a lover of all digital things, sports, standup comedy and those who pay great attention to the power of the written word. 
What's next is what fuels my spirit. Any thoughts on that, by all means... 
Let me know.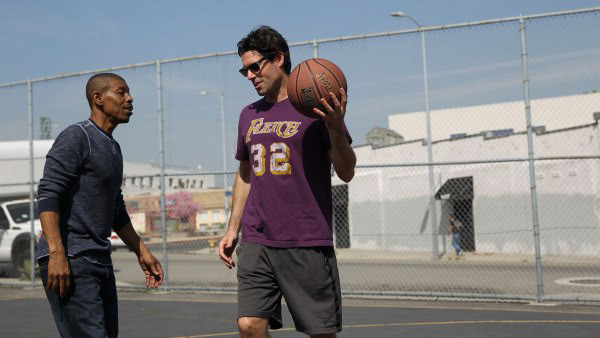 [
Photo from a branded content piece I produced for AXE while at UPROXX. 
My game of H-O-R-S-E vs. the shortest NBA player ever: Muggsy Bogues
.]