(The below excerpt is from a story originally published live on YP.)

Mercedes-Benz BIOME
Born from a seed of an idea at the 2010 Los Angeles Design Challenge, the BIOME would be cultivated in a lab vs. a production line using a material known as BioFibre (in theory). Each car would have its own DNA with customer requirements embedded within the Mercedes star, which naturally, would be genetically engineered. Also, the tires would be grown from four separate seeds. Plausible? Perhaps in Philip Dick's brain. Oh, and by the way, the entire car is fully biodegradable.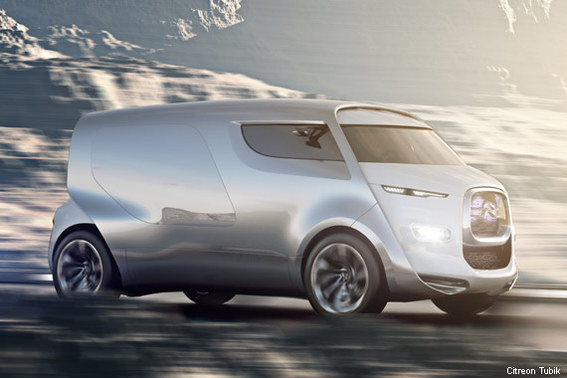 Citreon Tubik
What at first glance looks like a minivan for clubbers, the Citreon Tubik takes group transit straight to the Vegas roadtrip set and ups the ante considerably. This "lounge-style cocoon" seats up to nine people and an infinite number of glow sticks. There's also a flat-screen display to watch any of The Hangovers, a panoramic window and seats made of felt and silk. Naturally, it's a hybrid so you can experience way less minivan guilt. 
Toyota Fun Vii
Unveiled ahead of the 2012 Tokyo Auto Show, the Fun Vii ("Vehicle Interactive Internet"), has touch-screen panels across its entire exterior body shell. Meaning? Drivers can personalize their own Fun vehicle exterior with whatever suits their mood -- be it Facebook photos or a scene from their favorite movie -- thanks to a projector inside the vehicle. Want it? You'll have to wait a few years since it's not in production. Yet.
Peugeot EX1

Why have just one electric engine when you can have two? Shaped to look like a "water droplet," the electric Peugeot EX1 barely broke a sweat while shattering six speed records for a vehicle weighing less than 2,200 lbs. Presented first at the 2010 Paris Motor Show, the EX1 was designed as part of Peugeot's 200th anniversary to show the possibilities of electric power.
BMW i8 Spyder

Scheduled for production in 2014, this 'Mission: Impossible -- Ghost Protocol' star combines an innovative plug-in hybrid electric concept with a high-performance three-cylinder combustion engine. From its super-sculptured body (including door panels that swing upwards DeLorean-style) to the aerodynamic racing stripe, this sports car will soon bring a new level of sexy to Bavarian Motor Works. Price point? $150K.
BMW 328 Hommage

As a tribute to the dream sports car of the 1930's, the BMW 328 Hommage is a modern interpretation of one of the 20th century's most classic blood pumpers. Celebrating the 75th anniversary of a legend, this lightweight jewel is comprised mainly of carbon-fiber-reinforced plastic and miraculously has no doors, just deep recesses for earnest drivers to jump into it, James Bond-style. One thing to watch out for is the instrument panel, equipped with two illustrious iPhones for the driver and co-driver's perusal. One has GPS capability... the other a stopwatch to measure record lap times at the track.
Lexus LF-LC

This hybrid 2+2 sport coupe made a big splash on Jan. 9, 2012 at NAIAS, unveiling its stylish blend of features to a world of envious eyes. Showcasing the future design direction for Lexus cars, the LF-LC offers an abundance of drool-inducing features such as "L" shaped tail and fog lamps and a remote touch-screen device, allowing drivers to operate controls without altering line-of-sight. It even has a pop-up touch-screen keyboard, in case you like look cooler than anyone you pull up next to.
smart for-us

With its world premiere at the 2012 NAIAS in Detroit, this smart new reveal had people wondering if this was the smallest urban pick-up truck they'd ever seen. Thanks to the state-of-the-art electric drive with a 55 kW magneto-electric motor, the zero-emission smart for-us is agile and exciting to drive. As for cargo space, it can carry two passengers and two smart 250-electric motor ebikes effortlessly in its teeny trunk area. But passengers will have to wait. It's isn't slated for production yet.
Nissan NV200
When the Nissan NV200 (New Generation Vehicle) debuted at the 2007 Tokyo Auto Show, anticipation quickly turned to reality on the production line in Japan and Europe. A future launch is being planned in the U.S. -- especially given the news that the NV200 was chosen to be the next-gen New York taxi, which might first hit the streets in 2013. Nissan is also testing the NV200 to go fully electric, which would be revolutionary for this auto category.
Kia POP
It's easy to spot talent when you see it. Witness the Kia POP -- an ultra-efficient, chrome-colored concept car that's less than 10 feet in length. Not only can the POP squeeze into the tightest of spaces (cue for parallel-parkers to cheer), but with a fully-electric, zero emission engine powered by a compact lithium polymer battery, it can go up to 100 miles on a single charge. Inside? The purple-colored, three-seat interior was inspired by the mod confines of a spacecraft. Let's hope it gets lift-off.
Cadillac Ciel
Named after the French word for "sky," the Cadillac Ciel is inspired by the beauty of the California coastline, which presumably you could cruise this beast along. As a four-seat convertible decked out in futuristic detail, the Ciel offers American car buyers many surprises. More specifically, twin turbocharged hybrid powerplants, elegant Italian olive wood trim and oodles of advanced technology -- from hidden connectivity portals to an aromatherapy feature controlled from the rear armrest. Now we can all breathe a little easier.
Rolls-Royce Apparition
When student Jeremy Westerlund designed this amazing "Apparition" as a student at Art Center College of Design, he wanted to represent a different time -- when a chauffeur could shepherd presumably esteemed occupants around town as they traveled incognito. The result is this model (1/4th the size of what the final car would look like) and one helluva noble chariot -- from the mahogany-encrusted wheels to the cuddly passenger compartment. Contrary to popular belief, it does not serve Grey Poupon.
BMW Gina

The Gina car concept turns the idea of a typical car exterior on its head. This shape-shifting super-car (currently in the BMW Museum in Munich) is an acronym derived from the phrase "Geometry Infinite Adapatation" (GINA) and has a textile skin that takes about two hours to wrap around the car. Based on the car's various configurations, it folds, stretches and buckles to offer up a flexibility rarely (if ever) found on an automobile. Just hope it doesn't hit a snag.
Doking XD
When this small, three-seat EV designed by the Croats first appeared at the 2011 Los Angeles Auto Show, it made a big splash -- as much for its uniqueness as its country of origin. "If you multiply Smart with the Rolls-Royce, you get the Doking XD," said L.A.-based automotive journalist, Zoran Segina, according to a 'New York Times' story. The same story reports that Doking plans on finding an American investor so they can produce 1,000 of these XD's per year at a retail price of $80,000. Anyone interested?
Kia Track'ster
Having debuted at the 2012 Chicago Auto Show, this three-door, AWD, 250-horsepower Track'ster is based on Kia's Soul platform. Decked out in white and red, it dons the same uniform as L.A. Clippers star and Kia spokesman Blake Griffin... and gets after it with the same vigor. Also, intriguing is that the Track'ster forsakes a backseat in favor of an "equipment tray" designed for helmets, gloves and any tools you might need while racing this bad boy.