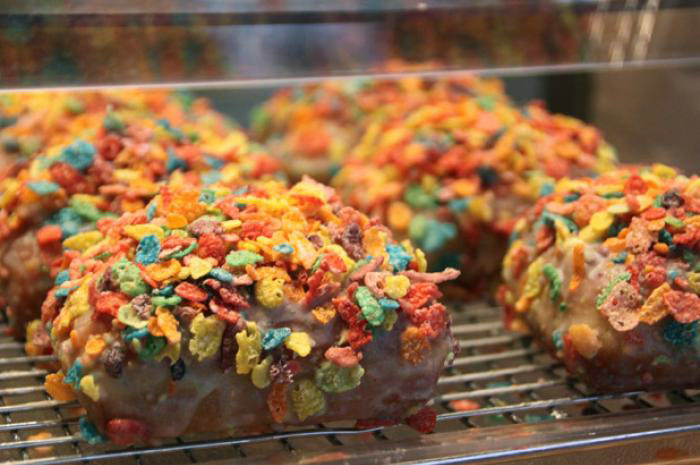 Fruity Pebbles With Cereal Milk
Where You'll Find It:  The General in New York, N.Y.
The Masterpiece: This colorful Flintstones-sanctioned confection could keep Fred and Barney's bickering down to a low murmur. As just one of several cereal-inspired concoctions on The General's menu, the Fruity Pebbles with Cereal Milk joins elite company with the Coco Puffs Coco Cream and Cinnamon Toast Fall Spice Cream donuts. And it's all thanks to pastry chef Thiago Silva. And Post Foods, of course.
Pink Feather Boa
Where You'll Find It:  Top Pot Doughnuts, Seattle, Wash.
The Masterpiece: Top Pot became an instant legend a few years ago when Seattle Seahawks wide receiver, Golden Tate, broke into it to steal a few maple bars. He later apologized calling the donuts "irresistible." One of their other irresistible finds? The Pink Feather Boa, starring pink flavored icing and coconut shavings. You don't need to break into the shop for it, though. As their (new) ad states, "Irresistible. But please wait until we are open."
Lemon Pistachio Donut
Where You'll Find It:  Dynamo Donut & Coffee in San Francisco, Calif.
The Masterpiece: Leave it to San Francisco to lead the progressive movement when it comes to donuts. The decadent Lemon Pistachio at Dynamo Donut & Coffee isn't even that nutty compared to some of their other creations. Witness the Passion Fruit Milk Chocolate and Molasses Guinness Pear donut as evidence A and B. What else do you expect from a chef/owner who attended the New England Culinary Institute — before working at fine dining establishments such as Postrio and  Foreign Cinema? She's a dynamo. 

Green Tea Donut
Where You'll Find It:  The General in New York, N.Y.
The Masterpiece: If you can put aside the fact that this donut is $11, The General's Green Tea Doughnut could win you over for its picturesque pastriness if not its Zen quality. As the second donut from this New York outpost, the Green Tea Doughnut itself comes with green tea mascarpone cream and a lemon honeycomb. It's a work of art.
Fluffernutter
Where You'll Find It:  Huckleberry in Santa Monica, Calif.
The Masterpiece: Donut. Meringue. Peanut butter cookie crumble. Just three of the stars in the Fluffernutter spotlight. People flock from all over LA to this Westside bakery for breakfast, bread and the most intoxicating yeast spend, pastries. The Fluffernutter is just one example of what Huckleberry's doing right.
Key Lime Donuts
Where You'll Find It: Krispy Kreme (*Throw a rock and you'll hit one.)
The Masterpiece:  From the undisputed king of donuts when it comes to popularity and sheer expanse (740 locations in 22 countries), Krispy Kreme gives us a summer blockbuster and sequel. The first is Key Lime Cake, a cake donut topped with key lime cream cheese icing and a "Kreme" dollop. The second one pictured is Key Lime Cheesecake, filled with key lime cheesecake and topped with graham cracker crust crumbles.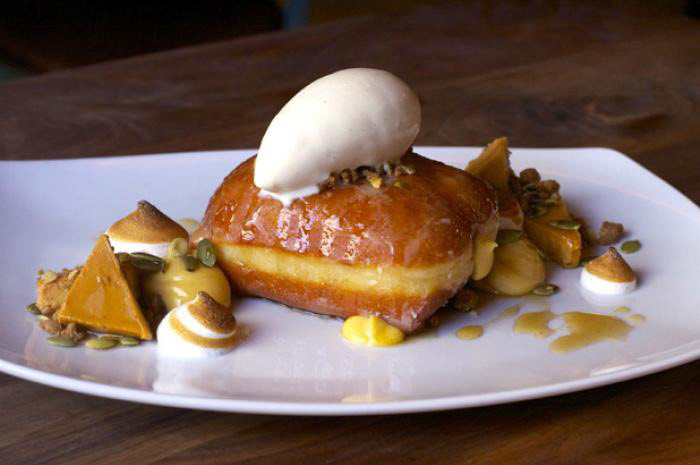 Pumpkin Pie Donut
Where You'll Find It: Catch in New York, N.Y. (and now L.A.)
The Masterpiece: This Pumpkin Pie donut is on a dessert menu that competes with a S'mores Pizza — so you know it must be good. As a special catch at seafood restaurant Catch, this pumpkin-y pleasure comes courtesy of pastry chef Thiago Silva. It's essentially a pepita (pumpkin seed) streusel that comes with spiced ice cream and maple syrup (to add a little extra guilt to the mix). This pumpkin pie can be found on the menu year-round. You're welcome.
Bacon Maple Bar
Where You'll Find It: Voodoo Doughnut in Portland, Ore.
The Masterpiece: If it's true that bacon makes everything better, then you'll love the voodoo that Voodoo Doughnut does so well. Their Bacon Maple Bar combines two American institutions into one -- a maple donut and yes, actual bacon strips. It comes served up with attitude on a menu that stars other classics, such as their signature Voodoo Doll (a chocolate-y pin cushion), the Tangfastic (yes, with Tang) and the Marshall Mathers, a plain cake donut with mini M & M's. People travel more than eight miles for that one.