(This is an excerpt from a piece originally published on YP.)
Alpine Sunbeam / 'Dr. No'

This sporty two-seater earns the claim of being the first Bond car ever, starring in the 1962 film, 'Dr. No.' British MI6 agent (codename 007), played by Mr. Sean Connery, got to drive this bad boy in Bond's first high-speed car chase. Steering from the right side of the car, Connery drives the Alpine Sunbeam under a construction crane, fooling his pursuer while sending them careening off a cliff. A smug Bond watches the wreckage, while claiming to a construction worker: "I think they were on their way to a funeral." Classic Bond.
Aston Martin DB5 / 'Goldfinger'

As the third film in the James Bond franchise, 'Goldfinger' (1964) marked the first Bond film to star an Aston Martin. Almost 50 years and 11 Aston Martin's later and the DB5 is still thought of as one of -- if not -- the most iconic Bond car ever used. Driven by Mr. Sean Connery (above), the film version of this iconic DB5 featured a smoke screen, bullet shield and even pop-out guns for disposing of bad guys in hot pursuit. 
Aston Martin V12 Vanquish / 'Die Another Day'

Nothing cooler than the name "Vanquish" for a Bond vehicle. This one, driven by Remington Steele himself in 'Die Another Day' (2002), featured a whole lot of bad-ass tech on it. Namely, mounted rockets, spiked tires for gripping ice, a camouflage feature for invisibility and an always essential ejector seat. All demonstrated in an explosive high speed chase in Iceland. Haven't we all been there?
Lotus Espirit / 'The Spy Who Loved Me'

This one came equipped with more than Roger Moore's disarming wit. Other than a sludge-shooter, which squirted enemies in hot pursuit from the rear, the Lotus Espirit became epic when it turned into an impenetrable submarine to evade a helicopter-flying hottie, who (spoiler alert), it does not end well for. By far one of the best underwater high-speed chases on film.
Aston Martin DB5 / 'Thunderball'

The gadget-laden Aston Martin DB5 returned for some new, world-class Bond-age in 'Thunderball' (1965) -- to follow up its debut in 'Goldfinger'. This go 'round, the Connery-led Bond got to play with even greater tchotchkes than before. These cutting-edge surprises included a water cannon and boot-stowed jetpack. Standard features you'll be hard-pressed to find on any Aston Martin today. But don't let that stop you from trying.
Aston Martin DBS / 'On Her Majesty's Secret Service'

For new and rather short-lived Bond star George Lazenby's debut -- and final -- Bond film, 'On Her Majesty's Secret Service' (1969), Aston Martin unveiled an equally new six-cylinder DBS to star alongside the fresh-faced 007. Surprisingly, this car had no real gadgets other than a mounting for a telescopic-sigh rifle in the glove compartment. But it looked really cool -- especially when seen sunning on the sands of Portugal.
Toyota 2000 GT / 'You Only Live Twice'

As the fifth film in the James Bond franchise, 'You Only Live Twice' (1967) starred what was generally considered to be a futuristic car at the time -- the Toyota 2000 GT convertible. Interestingly, the GT was loaded with all sorts of advanced features for the time -- including an independent suspension and disc brakes on each wheel. It was "the perfect fit for Bond, but not for Connery -- the Scotsman was just too damn big for it," according to MSN Autos. So...Toyota ended up creating two especially for the film without roofs, rather just some upholstery to simulate a folded top. Pretty cool considering the screenplay for this film was written by Roald Dahl (James and the Giant Peach). Talk about range.
Aston Martin DB5 / 'Quantum of Solace'

Present day Bond stud, Daniel Craig, got to show off his Bond chops in what looked like the biggest budget Aston Martin commercial ever shot. In the 'Quantum of Solace' (2008) opening scene in Siena, Italy, this black-tie-tuxedo-of-a-car handled dirt as well as pavement as baddies fell left and right. Amazingly, it drove just as well without a door as it did with it. And this is all happened with a guy trapped in the trunk. Typical.
Aston Martin V8 Vantage / 'The Living Daylights'

For Timothy Dalton's first Bond film, Aston Martin made a landmark return to the franchise after a 20-year hiatus. Hence, the Aston Martin V8 Vantage, which was supplied to the producers personally by Aston Martin chairman Victor Gauntlett. The film featured two versions of the car -- the Volante and a coupe. Of course, it also had awesome vehicle options in the form of gadgets such as outriggers and the ever-popular tire spikes. Debonairness, well that came standard.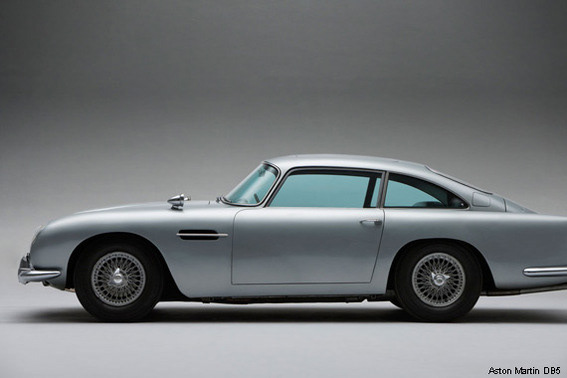 Aston Martin DB5 / 'Skyfall'

In the twenty-third film of the Bond franchise, 'Skyfall' comes on the 50th anniversary of all things Bond. With it, the Aston Martin DB5 returns for its sixth appearance since its initial debut in Goldfinger in 1964. What will the new version of the DB5 have? A self-driving feature? Bluetooth safe decoder? Contraceptive dispenser? Who knows. Your guess is as good as ours. See 'Skyfall' to find out.